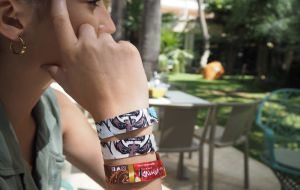 Spanish-based hotel group, Meliá Hotels International, has developed a new bracelet designed to serve guests as a room key.
The new bracelet has a Bluetooth connection to the Meliá App which allow guests to unlock the door to their room just by placing the bracelet next to the lock.
The bracelet also allows access to all of the services offered by the hotel, such as paying for meals in the restaurant or treatments at the spa.
The bracelet is completely waterproof so they can keep it on whilst swimming in the hotel pool.
André P. Gerondeau, Chief Operating Officer of Meliá Hotels International, explains: "we began to investigate how we could make it easier for guests to move freely around all the services and spaces offered by the hotels. The answer came through Oracle, who helped us develop the "Meliá bracelet" in record time and meeting all our needs and expectations."
Details: https://www.meliahotelsinternational.com/en/press-room/07232018/new-melia-bracelets-developed-oracle-innovation-and-convenience-freer-and-safer