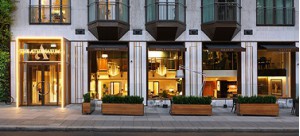 The multi-million-pound transformation of the ground floor at the Athenaeum Hotel & Residences in central London is complete.
The new entrance to the Athenaeum Hotel leads to an open-plan, double-height lobby and lounge areas, flanked by floor-to-ceiling windows overlooking Green Park.
The space features a diverse portfolio of work from contemporary artists including surreal, nature-inspired photographs from American artist Ysabel LeMay alongside ink-on-watercolour illustrations by Bridget Davies.
Outside, a 'Living Wall' at the Athenaeum Hotel includes 12,000 plants, all growing vertically.
Michelin-starred chef-restaurateurs Chris and Jeff Galvin oversee the Athenaeum Hotel's menus in the restaurant.
The Athenaeum is a five star hotel with 164 bedrooms, suites and residences. The Athenaeum has a range of five air-conditioned meeting rooms, all with natural light and views over Mayfair's Green Park. The rooms will seat from six delegates boardroom style to 80 delegates theatre style.
The Athenaeum Hotel & Residences is located in Piccadilly in Mayfair.
Details: http://news.athenaeumhotel.com/_act/link.php?mId=B9249707831811941037424436412613&tId=210967110