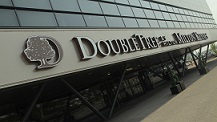 After a year of expansion and change, DoubleTree by Hilton Milton Keynes has opened an additional 54 bedrooms bringing the total to 230 bedrooms. Included in the mix are two apartment suites with a separate living area, kitchenette and king-sized beds. Guests in the apartments also have access to the Executive Lounge. In addition there is a new Terrace Bar and the pitch-side restaurant has been extended.
DoubleTree by Hilton Milton Keynes is built into the StadiumMK and this has seen the largest development over the last twelve months. StadiumMK is home to MK Dons League One Football Club. It now offers an additional 3420 sq-mt of event space. ArenaMK within the stadium is spread over three floors and includes two balcony areas, green rooms, production offices and smaller breakout rooms. It will accommodate up to 3500 delegates for a conference or 4606 with arena style seating.
Future plans for DoubleTree by Hilton Milton Keynes include a 360 degree wrap of hotel bedrooms around all four stands at StadiumMK and this will increase the number of hotel bedrooms to 302.
DoubleTree by Hilton Milton Keynes is located close to the centre of Milton Keynes, 35 minutes by train from central London and a five-minute drive from junction 14 on the M1.
Details: http://doubletree3.hilton.com/en/hotels/united-kingdom/doubletree-by-hilton-hotel-milton-keynes-LTNDTDI/index.html