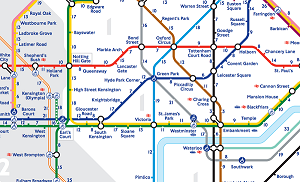 Have you ever had the feeling whilst walking through the tunnels and negotiating the escalators on the London tube that perhaps it would have been quicker to simply walk to your destination – as well as being far nicer in the fresh air? Well that thought appears to have occurred to the folks at TfL, Transport for London.
Transport for London has now created a version of the legendary London Tube map — a 'Walk the Tube' map that shows how long it takes to walk between any two stations in zones 1 and 2 - which covers central London.
Whilst the map reveals how much faster it would be to walk between certain stations, such as the three minute walk between Charing Cross and Embankment, it can also show how efficient the Tube can be when compared to hoofing it under one's own power.
It could lead to new calculations when choosing transportation options around London.