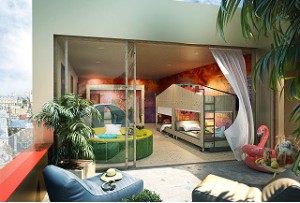 We are not sure what the Millennials have done to deserve all the attention they are currently receiving from hotel chains. The latest group to chase this in-demand demographic is Accor.
They have just launched their 'Jo &Joe' brand of hotels – a brand that blends the best of private rental, hostel and hotel formats.
Jo&Joe is designed to meet the expectations of the Millennials and indeed anyone who values 'sharing, spontaneity and experience'.
Jo&Joe will take root in busy city centre locations close to public transport and less than 15 minutes from the major point of interest.
Jo&Joe is designed to provide innovative accommodation solutions for people travelling alone, in pairs, in groups or as families. Room rates will start from €25 a night and options include:
'Happy House': a private area where a guest can relax, work, cook or wash their clothes – like at home.
'Together': for guests sharing with private lockers, reading lights, USB ports, shared recreation areas and bathrooms.
'Yours': rooms for two to five people with a private bathroom and kitchen area. Designed for families.
"OOO!" or Out Of the Ordinary: unexpected accommodation for singles or for groups of up to six people. The accommodation will be different at each Jo&Joe venue. Original formats include yurts, hammock and caravans ensuring an unforgettable experience.
The bar will be the central feature in a Jo&Joe. It will be a unique design with high visibility from the street thus encouraging local residents to join the hotel guests.
Jo&Joe will offer a simple and authentic restaurant concept with grills, open flame barbecues, woks or wood fire pizzas. A collaborative kitchen will allow the guests to showcase for their culinary talents if they wish.
Alternatively guests travelling on a budget can keep costs under control by cooking their own meals.
A total of 50 Jo&Joe hotels are set to open by 2020 in 'destinations popular with Millennials'. Locations will include Paris and Bordeaux (2018) as well as Warsaw, Budapest, Rio and São Paulo.