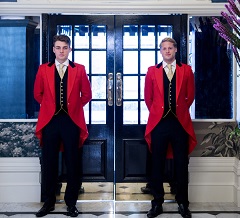 The Goring Hotel is delivering what they claim is 'London's ultimate service experience' with two footmen dressed in scarlet tailcoats and immaculate gold-trimmed waistcoats, standing at the door ready to greet guests with welcoming smiles.
The new service is for guests staying in The Goring's Belgravia and Royal Suites. From the moment guests arrive to the moment they leave, a dedicated footman will be on hand to fulfil each and every request - from securing a reservation to delivering a cocktail to the suite each evening.
The team of footmen, who have been chosen for their personable character and communication skills, have been trained to The Goring's standards by long serving members of staff. Their aim is to deliver the ultimate service experience.
"Service is what we are known for – and is what matters most in a good hotel" explains Jeremy Goring.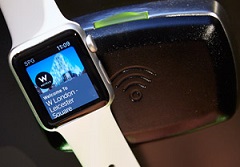 Meanwhile in central London the W Hotel in Leicester Square views the latest advances in mobile communications as the best avenue for providing their guests with an enhanced service. Starwood's W Hotel is to offer keyless door entry to Starwood Preferred Guest loyalty club members. The loyalty club is free to join. The launch of the keyless door entry coincides with the launch of the new Apple Watch.
Scanners which read digital keys via guests' smartphones and wearable devices have been installed on all the hotel's room doors, in the lifts and other public areas that require key entry.
The keyless app also has other features including the address of the hotel and direction details as well as transport options available during a guest's stay.
The W London is the first hotel in the UK to take advantage of the Apple Watch. The hotel predicts that the Apple Watch will be a big hit with their guests and if everything runs smoothly, the technology could save time and allow staff to focus on providing their guests with other services.

Details:
www.thegoring.com
www.wlondon.co.uk