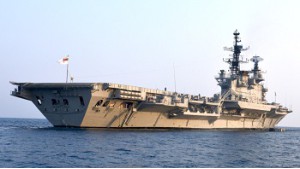 HMS Hermes, flagship of the British Taskforce that recaptured the Falklands in 1982 is to be converted into a luxury hotel – reports The Times.
HMS Hermes, now anchored in the Bay of Bengal in India, will have 500 bedrooms, several restaurants, conference and banqueting suites, leisure facilities and a nightclub.
HMS Hermes was an aircraft carrier during its first career so helicopters can easily land on its decks making the ship very 'user-friendly' for both a business and leisure point of view.
Conversion work will cost in the region of £85million and is likely to start this summer when the aircraft carrier is finally decommissioned.
Construction work on HMS Hermes started back in 1944. It was launched in 1953 and sold to the Indian Navy following the Falklands War. The Indian Government renamed the ship INS Viraat meaning 'giant' in Sanskrit. It holds the record of being the oldest serving aircraft carrier in the world.