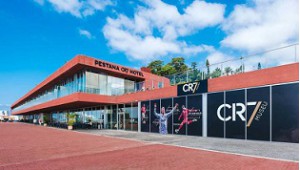 Cristiano Ronaldo, a footballer on the world stage, has just opened his first hotel in Funchal, the capital of Madeira.
Pestana CR7 Funchal hotel is the result of an alliance between the footballer and the Portuguese hotel group Pestana.
Pestana CR7 Funchal is located in the central Plaza del Mar. It is aimed at a young clientele, so it has a strong digital component and each of its 49 rooms has a smart TV and other services to facilitate the connection between various devices. The hotel also features a rooftop suite and pool - but no football pitch.
Pestana CR7 Funchal is just up the road from an 11ft bronze statue of Cristiano Ronaldo, also in the Plaza del Mar. It is a short walk from the CR7 Museum, the museum he modestly opened to showcase his own achievements.
Following the opening of Pestana CR7 Funchal, the partnership is expected to open its next unit in Lisbon later this year with openings in Madrid and New York pencilled in for 2017.
Details: http://www.pestanacr7.com/uk