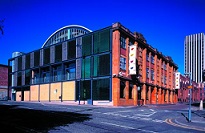 The CBSO Centre, home of the City of Birmingham Symphony Orchestra, has just reopened in the city following a major refurbishment. I went a long last week to take a look at the centre's meeting and banqueting facilities. The finishing touches were just being added to the main reception area during my visit but other than that the refurbishment is complete.

The principal room at the CBSO Centre is the 300-seater Main Hall. It is an impressive space which can be used either flat-floored or as a raked seat auditorium. As a black box It will work well for a dinner, banquet or awards ceremony. The hall has plenty of natural daylight which can be blacked out at the touch of a button. The room also has full disabled access.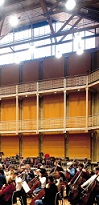 I must confess I struggle to understand the full technical specification of modern 'performance spaces', especially the lighting capabilities. There is a PA system with suspended and free-standing microphones - that bit I understand. However help is at hand with an in-house technical team available to offer assistance.

The Main Hall forms the central core of the building. On the first floor, forming a ring around the auditorium, are five individual meeting rooms comprising: three studios seating eight, 14 and 18 delegates boardroom style; the York Room a small boardroom for ten and the Ratcliff Room for 24 delegates boardroom style. All five rooms have plenty of natural daylight. They are fully equipped with ceiling mounted projectors, screens and flip charts plus free wi-fi.

An open-plan space on the ground floor adjacent to reception is available for corporate hospitality, entertaining, exhibition space or as a pre or post event bar.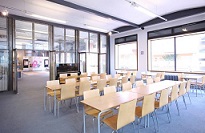 There are no catering facilities on-site. However, the CBSO Centre does have a range of recommended suppliers to provide canapés, breakfasts, lunches and banquets.

The CBSO Centre was built in 1998 as a rehearsal space and to complement the performance facilities at Birmingham's Symphony Hall just up the road. It is also home to Birmingham Contemporary Music Group and Ex Cathedra.

Apparently the biggest problem facing the CBSO Centre is not the lack of outside organisations wishing to use the facilities – rather it is finding availability for those which do. The Main Hall is used for rehearsals during the day but the studios are more readily available. The classical music world works on a long-term diary so the Centre has a good idea of its availability well into the future - although last minute changes to travel plans can play havoc.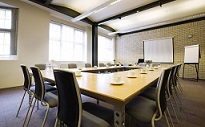 Nonetheless, the CBSO Centre does appreciate that venue bookers can lose heart if the house-full signs are always up. 'Keep trying please' is their plea.

My overall impression of the CBSO Centre was of a modern, open and airy building, well-equipped with very friendly, professional staff in a good location. The Centre is quietly tucked away at the bottom of Berkley Street yet just a two minute walk from one of the busiest entertainment sectors of Birmingham - namely Brindleyplace and Broad Street and a ten minute walk from Birmingham New Street station. The CBSO Centre would make a great venue for a dinner to impress.

Details: www.cbso.co.uk