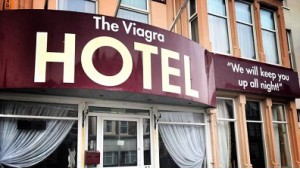 The privately-owned Vidella Hotel in Blackpool has rebranded itself as the 'Viagra Hotel'.
The 29-bedroom hotel in the resort has also adopted the strapline: "We will keep you up all night".
As you might guess double-entendres abound. These include the owner claiming the new name will make it 'stand out' – despite 'stiff' opposition from some Blackpool locals.
The final word on the renaming could be taken by the pharmaceutical company, Pfizer, which owns the Viagra brand. It has been reported as planning to take action against the hotel.
In the meantime the Viagra Hotel is located in Dickson Road just behind the promenade on Blackpool's North Shore and a short walk from Blackpool North station.