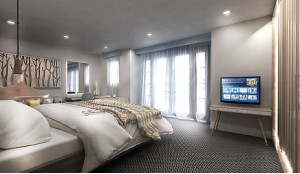 Low Wood Bay Resort and Spa reopens on 12th Aril 2017 having completed the first phase of its three phase refurbishment programme.
The first phase has included a complete refurbishment of all the existing bedrooms, 'The Windermere' restaurant and the 'Langdale Lounge'. Improvements have also been made to the road entrance into the hotel.
The second phase which opens in July will include the new Spa, a new dining experience 'Blue Smoke' plus additional outdoor leisure facilities and new atrium space.
The final phase, scheduled to open in October 2017 will include a new block of 'Club House' rooms many with lake views.
Low Wood Bay is situated on the shores of Lake Windermere. There are currently 111 bedrooms each with high speed internet access, a Smart TV, direct dial telephone and a clothes iron/press. All bedrooms also have a writing desk, a hairdryer and complimentary tea and coffee.
Low Wood Bay has nine meeting rooms with the largest room accommodating up to 340 delegates theatre style. All rooms are air-conditioned and sound-proofed with high speed internet access and dedicated phone lines. There is flexibility for back wall projection, along with good ceiling heights and vehicular access to all main rooms.
Details: http://englishlakes.co.uk/hotels/lake-district-hotels/windermere-hotels/low-wood-bay/