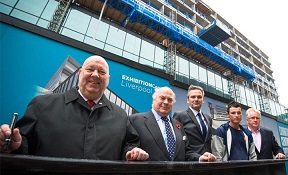 In the week when the topping out ceremony was held for the new £66million ACC Exhibition Centre in Liverpool came news of the imminent departure of an existing exhibition hall.
Demolition of the Earls Court exhibition halls in West London will start in February 2015. The demolition is expected to take 18 months to two years to complete, paving the way for major construction works to create 7,500 new homes.
In Liverpool the new ACC Exhibition Centre ACC (pictured left) with the new Pullman Hotel alongside is expected to open in September 2015 – and will more than double the existing 76,700 sq. ft. capacity at ACC Liverpool to 163,800 sq. ft. of flexible exhibition space.