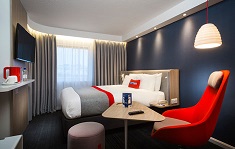 Intercontinental Hotels Group has unveiled its new-look Holiday Inn Express. The redesign includes the hotel lobby, dining area and guestrooms and also includes a new food and beverage offering.
The new Holiday Inn Express bedrooms are equipped with a smart television enabling guests to stream their own media from a personal device. Wi-fi is included in the room price. Rooms also feature a flexible work/rest corner. The traditional desk has been removed and replaced with a comfortable chair and portable table with multiple USB ports. Bedrooms also have a larger bed with a padded, noise-reducing headboard.
Express Café & Bar is in the lobby and features a modern, continental-style café/bar serving an 'Express Start' breakfast and an all-day grab-and-go food option.
Mobile check-in is another enhancement, with IHG Rewards Club members able to check-in through the IHG App or online prior to arrival. When guests arrive they will be offered a choice of room when possible.
The new Holiday Inn Express concept will be launched in Europe and adopted for new-build hotels and properties undergoing renovation. IHG are aiming for at least one in every four of Holiday Inn Express properties to feature the 'next-generation' facilities within three years.