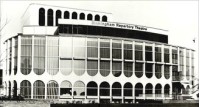 In 1964 both the University of Warwick and the Birmingham Repertory Theatre were at the planning stage.
The future of high speed rail was also being discussed. Picture: Birmingham Rep as it looked when it finally opened in 1971)

£58million Warwick University has plans for 20,000 students
Plans for the new University of Warwick which will be closely linked with industry and commerce and have one of the biggest student populations in Britain were announced in London yesterday. When completed the university buildings will occupy 417 acres in and near to Coventry.
On present day prices the estimated cost is £58million. The scheme is for 15,000 students but there is room for later expansion to take in another 5,000. Source: The Times
Birmingham to have £500,000 theatre
Building of the Birmingham repertory theatre will begin next year. Preliminary plans were passed by the city council today. The theatre will stand on the civic centre between Bingley Hall and Baskerville House. Source: The Times

2014: The Birmingham rep has just reopened following a two year redevelopment. The Library of Birmingham next door is physically integrated with the theatre at ground and first floor levels and they share the foyer and the new studio theatre. Bingley Hall was demolished not long after the theatre was originally opened and the ICC now stands on the site.
London – Plymouth in 3hours 29minutes
British Railways took another step towards the high-speed passenger services of the future when a new record of 3hours 29minutes for the 226 mile run from Paddington was established today.
On board the train the General Manager of Western Region said that if the railways were to stay in business in competition with airlines and motorways, main line passenger trains would have to average 70 miles per hour plus. It was not a question of 'can't be done' but of when and how.
Sir
As a frequent traveller on British railways I am always irritated by the utter impossibility of being able to decipher the names of stations through which we are passing. Would it not be possible to place the boards bearing the name, not parallel to the line but at an angle to it, to enable passengers to read the names in comfort, without twisting the neck in a vain attempt? Yours Source: The Times
Details

Published: 15 April 2014
Hits: 1204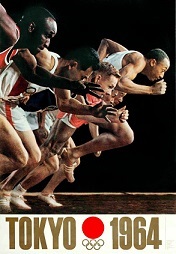 Would the ordinary man or woman in the street ever understand the complexities of operating a computer? It was a worry for the experts fifty years ago. Little did they realise the children would master them first and teach the adults how to use them. Stereo radio was also at the testing stage in 1964. Meanwhile, in London the new Europa Hotel was about to open on Grosvenor Square.
Picture: Posters promoting the Tokyo Olympics of 1964 were first unveiled during April 1964.
Computers for the Ordinary Man
Some of the problems of developing the use of computers and the need for co-operation between the designers and the users in solving them were discussed by Sir Edward Playfair, president of the British Commuters Society at a meeting in Edinburgh yesterday.
He was opening the joint computer conference arranged by the Institution of Electrical Engineers, the British Computer Society and the Institute of Electronic and Radio Engineers under the aegis of the UK Automation Council.
Sir Edward said that the technical process of teaching the ordinary man enough about computers without making him an expert which he need not be was not too difficult provided that he had a fair mathematical and numerical training and provided the concepts were made familiar.
"If this can be done in ten years time or so you will have users worthy of the machines and systems which I am sure the industry will produce". He added "if not they may fall into the hands of specialists who will have no adequate means of communication with a large section of the decision makers".Source: The Times

New System of Stereo Radio
Visitors to the International Audio Fair in London, which opened yesterday, will be able to hear for the first time the Zenith-GE system of stereophonic broadcasting, which is being demonstrated by the BBC.Source: The Times

New Europa Hotel
The new Europa will be the 23rd hotel in the Grand Metropolitan Group. The new Europa Hotel in Grosvenor Square is expected to be fully operational no later than 1st June 1964. The Europa with 300 bedrooms will be the most up to date hotel of its kind in London, with first class facilities for conferences and banqueting.
Is this now the Millennium Hotel London Mayfair. Source: The Times

Details

Published: 09 April 2014
Hits: 1078