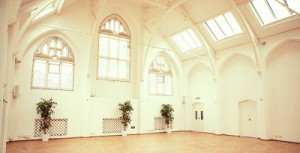 Birmingham is forever building new libraries in the city centre. The city keep them for a few years and then build another one. Sometimes the city demolishes the old ones but not always straightaway.
So the chance to view the Birmingham Old Library had me scratching my head – which one exactly?
The Old Library in question is a restored Victorian building in the 'Custard Factory' complex in Birmingham's Digbeth. It is the last remaining one of Birmingham's five original Free Libraries and opened in 1866.
The Old Library is a bright, airy welcoming space – absolutely flooded with natural daylight.
The library has just been refurbished but the original architectural features of the Old Library have been retained including the vaulted ceilings and the beautiful arch windows.
A new bar was being fitted along one of the walls on the day I visited. The wall behind the bar had just been fitted shelves of books (500 books bought in bulk for £195.00 – bargain!).
Catering is available from breakfast meetings through to evening dinners with hot and cold buffet lunch options and refreshments throughout the day.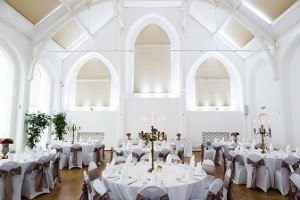 The Old Library will seat up to 160 guests for a theatre style meeting or up to 80 delegates in a classroom formation.
I suspect the Old Library will be seen in its best light when set up for a dinner or banquet. The room will seat up to 150 guests for a banquet or up to 250 guests for a reception.
There is not a great deal of parking in and around the Custard Factory complex although there are no parking restrictions in the streets off Digbeth. However, it is only a ten-minute walk from both Birmingham New Street and Birmingham Moor Street stations.
To make the walk more interesting the Old Library can arrange 'walking taxis' for delegates arriving in the city by train. During the walk, for example, the delegates can be treated to a historical overview of this fascinating district of Birmingham from 'a local'.
It is a perfect way to relax delegates before a hard day's work. Umbrellas can also be arranged on the very few days in the year when Birmingham experiences rain.
Details: https://www.theoldlibrary.co/