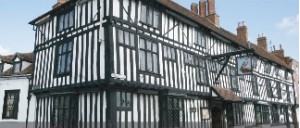 The Falcon Hotel in Stratford-upon-Avon will close from 22 December until the end of 2018.
The temporary closure is part of the Falcon Hotel's total refurbishment programme which started in April 2017.
The four-star Falcon Hotel dates back to the 16th century. It is situated in the heart of Stratford-on-Avon, a five minute walk from the Royal Shakespeare Theatre.
The new hotel will reopen as the Hotel Indigo Stratford-upon-Avon.