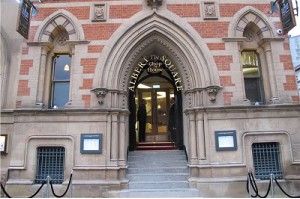 Albert Square Chop House boasts one major advantage before you start on the food and the meeting facilities – its location.
It is based in one of the finest buildings in Manchester, Thomas Worthington's Memorial Hall, overlooking one of the best locations in the centre of Manchester – Albert Square.
Meeting delegates go up the stairs at the side of the main restaurant and arrive in the main Memorial Hall, the larger of the two meeting space available at Albert Square Chop House.
The Memorial Hall is a room with plenty of natural daylight, well-decorated and furnished. It will accommodate up to 180 delegates theatre style and is fully equipped with the latest conference technology.
The Memorial Hall provides total exclusivity with its own private lift, bar and kitchen. Alongside is the Thomas Worthington Boardroom seating 18 delegates.
There are another two Chop Houses in the group a couple of hundred metres away in Cross Street and St Annes Square.
The group is planning to extend its meeting facilities with possibly a new boutique hotel in future.
Details: http://albertsquarechophouse.com/