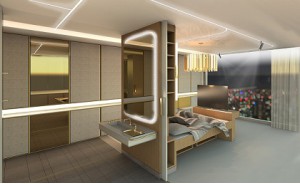 UK-based architects, Motionspot and Ryder Architecture, have won an international competition to design an 'accessible hotel room of the future'.
The Bespoke Access Awards was launched earlier this year by RIBA and Bespoke Hotels to "challenge the perception of hotel facilities set aside for disabled people are joyless, poorly-designed and over-medicalised."
Held at the Palace of Westminster, the international competition attracted entries from around the world including Germany, Russia, Hong Kong and Canada.
Motionspot and Ryder Architecture's winning room design is named 'AllGo'. It is an accessible room which can be adapted to the needs of the user through integrated and flexible design features that can be modified before the arrival of the guest.
Motionspot and Ryder will now aim to roll out pilot rooms in the coming year.
The entries were judged by a panel which included Paralympic gold medallist Baroness Tanni Grey-Thompson.
Details: https://www.ryderarchitecture.com/insights/news/motionspot-and-ryder-architecture-crowned-winners.htm