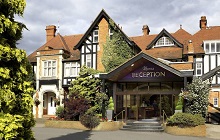 Q Hotels have decided that taking a walk, surrounded by nature and breathing in fresh air can boost creative thinking and improve engagement.
With this in mind Q Hotels have launched a 'Netwalking Package' at selected hotels.
Planners can arrange a meeting combined with an adventurous walk through the grounds of the Q Hotels and further afield, enjoying the scenery and landscapes along the way.
To ensure delegates stay 'on track' each hotel participating in the netwalking programme has planned specific routes for delegates to follow.
Q Hotels have also designed some exercises and activities which are available in the group's Wellbeing Guide for bookers to share with delegates ahead of the day.
Q Hotels taking part in the netwalking programme include:
Stratford Manor in Stratford on Avon
Chesford Grange, Kenilworth, Warwickshire (pictured above)
Hellidon Lakes Golf and Spa Hotel, Northamptonshire
Slaley Hall, Northumberland
Dunston Hall, Norwich
Telford Hotel and Golf Resort, Shropshire
Belton Woods, Grantham
Forest Pines Hotel and Golf Resort, Humberside
Norton Park, Winchester.
Details: https://www.qhotels.co.uk/