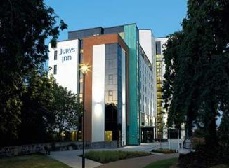 This is just one of the surprising findings revealed in research carried out by the Jurys Inn Group in Britain and Europe into manners and etiquette. Their other findings include:
• 95% of French more likely to give up their seat for someone on public transport vs only 84% of Brits
• European poll by Jurys Inn reveals Brits vote themselves top for politeness
• One in 10 Brits use profanities almost 20 times a day
Jurys Inn Group conclude that the Brits could be in need of some remedial 'manners lessons'.
Whilst we clearly need to brush up on our manners, the Brits cannot be knocked for their generosity when it comes to buying a round of drinks. Only 18% of UK pub goers skip a round compared to 23% of French and 44% of Germans.
The findings are published in the latest Jurys Inn survey: 'So You Think You're Polite? New City Census Busts Britain's Manners Myth'.
Suzanne Cannon, Head of Marketing at Jurys Inn said, "With hotels across the UK and Ireland, Jurys Inn Hotel Group is making it their mission to have the most knowledge about the cities they are in and their locals by delving deep into British habits. Jurys Inn staff are people experts, especially when it comes to Brits. They know what makes them tick and what makes each location unique.
Our study of Brits, French and Germans revealed some very telling facts and obvious misconceptions about who is the most well-mannered bunch. Anyone staying with us can enjoy our friendly service and good manners all year round, no matter where they are!"
Read the report conclusions: https://www.jurysinns.com/press_and_media