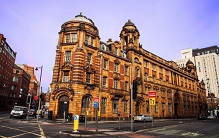 It has been confirmed that property developers, Allied London, have bought London Road Fire Station next to Piccadilly station in the centre of Manchester from Britannia Hotels. They will be rebranding the building the 'Manchester Firehouse'.
The Grade II-listed fire station has been the subject of controversy in Manchester for a number of years due to the property falling into a state of disrepair.
Allied London now plan a mixed-use future for the building to include studio living, workspace and hotel rooms.
Previous owners were granted planning permission to convert the fire station into a 227-bedroom hotel back in 2010. However a water hose fired from the top of the fire station's water tower would spray at least a dozen budget, three and four star hotels plus serviced apartments already in very close proximity – with others opening shortly or planned.