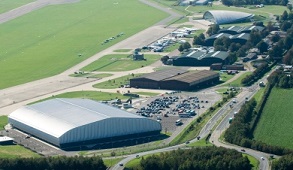 IWM Duxford's American Air Museum has just reopened following a five year transformation and redevelopment.
The American Air Museum tells the story of Anglo-American co-operation in twentieth and twenty-first century conflict, as seen through the eyes of the people linked with the aircraft and objects on display. Aircraft from the 1930s to the present day have been conserved and are on display.
From a meetings and events viewpoint IWM Duxford has a range of large and small meeting spaces. Conservation Hall is the largest event space at the entrance complete with aircraft on display. It will accommodate up to 800 delegates and can be used daytime or eveing for exhibitions, trade fairs, product launches and major conferences.
The Marshall Auditorium is a contemporary auditorium seating up to 200 delegates and is equipped with a high-spec PA system and adjustable lighting.
The Airside Suite with floor to ceiling windows and overlooking the runway will seat up to 90 delegates. There is also a range of smaller flexible meeting rooms in support.
Team building possibilities including taking to the skies in a Tiger Moth to more grounded activities from treasure hunts to outdoor challenges.
IWM Duxford's is located in Cambridgeshire just south of Cambridge on junction 10 of the M11 motorway.