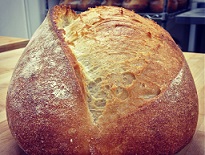 'Loaf' is a local Birmingham-based company which arranges cookery courses. They will develop a bespoke bread making or cookery course for a maximum of ten people at their cookery school in Birmingham.
They are also a group of urban adventurers with cooking skills who enjoy foraging in the city looking for food for free and then cooking it. Loaf will take a small group for an evening wandering the wilds of South Birmingham in search of edible treats, wild flowers and plants before returning to their HQ to cook them up. The walk takes in side streets, parks, riversides and the canal bank and it lasts around an hour.
Loaf's bespoke bread making and cookery courses take place at their high street cookery school in Stirchley, South Birmingham - but in the words of Loaf it is 'more of a food hub than just a cookery school.' They have a dining / conference room that can seat up to ten people adjacent to the cookery school kitchen, so delegates can multi-task combining meeting and cooking.
Details: www.loafonline.co.uk