There are several jewels still remaining in Birmingham's Jewellery Quarter. Some are hidden amongst the new apartment blocks, the corporate offices, the clubs and the restaurants in this now very trendy part of Birmingham.

A rare jewel indeed is Newman Brothers factory which made a range of solid brass, stamped electro-brass, silver and nickel plated coffin handles plus shrouds and coffin linings until the factory closed down in 1999. This jewel of a factory, in Fleet Street, has been 're-polished and re-cut'. It is now the Coffin Works and the latest event venue to open in central Birmingham.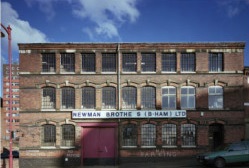 The Coffin Works does not open officially until the end of October 2014 but we went along for a preview.

The Coffin Works was built in 1894 and is a typical example of a late Victorian factory comprising a couple of three storey buildings built of red brick with lots of small-paned cast iron windows and separated by a courtyard. Its restoration has been the work of Birmingham Conservation Trust who rescued not just the building but also the old stock and machinery. This has now been reassembled on-site so visitors can view the processes involved and the products which left the factory gate until not that long ago.

What about the meeting facilities? The Green Room is a modern ground floor boardroom which will seat up to 15 delegates around a fixed table with a kitchenette in the room for refreshments and a projector and flip chart (plus free wi-fi). It is the only official meeting room in the Coffin Works. The Green Room leads straight on to the open courtyard and it is this which I think offers the most exciting event prospects. It is not that large but it is perfect for an evening reception, an outdoor theatre or film presentation or a drinks and canapé reception.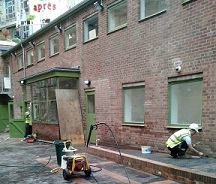 In the courtyard you could be excused for thinking you had wandered on to a Dickens film set. A guided tour of the factory and its processes and sample products can also be combined with any event or meeting.

From a logistics point of view Fleet Street is a short walk to both Birmingham New Street and Birmingham Snow Hill stations. It is street parking outside the Coffin Works with a multi-storey car park close by. It is overlooked by the new Ibis Styles Birmingham Centre Hotel in Lionel Street which runs along the back of the Coffin Works and there is a range of hotels across the price spectrum within a five minute walk.

Take a look at their website and let your imagination roam. It could be the venue for a very interesting and different event.

Details: www.coffinworks.org