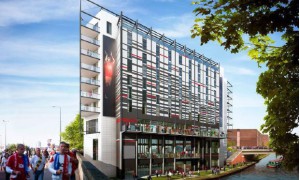 Hotel Football is located within a Beckham free-kick of the Old Trafford stadium in Manchester. It opens on 2nd March 2015. I went recently for a site-visit.
Whilst it is an accepted fact that 'football is a game of two halves', the same is also true of Hotel Football. Manchester United Supporters Club will be housed on the lower ground floor with its own entrance. This space will be heavily football-themed with wall-to-wall memorabilia. It will available for private hire for meetings and events such as sporting dinners. However in the main body of Hotel Football, whilst there is some very subtle theming, even a guest from another planet who was totally ignorant of football and Manchester United would feel at home.
The main facts: Hotel Football will have 133 bedrooms, 90% of which will be standard doubles, stylishly decorated and furnished with the latest in-room technology, a 40 inch LED television with Sky channels, a small mini-bar and a walk-in power shower. The remainder of the bedroom stock will be executive rooms; larger rooms located at the ends of the building. There will be a brasserie-styled restaurant and bar - and breakfast will be cooked to order! There will be a fitness suite on the second floor. Wi-fi will be free of charge throughout the hotel.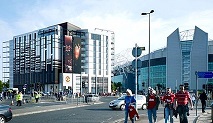 The main conference space is on the first floor and comprises the Stadium Suite which will seat up to 350 delegates for a meeting or around 270 guests for a dinner. The Stadium Suite will subdivide creating a total of eleven meeting rooms and private dining rooms in the hotel. The Stadium Suite has loads of natural daylight with a floor-to-ceiling window view across to Old Trafford.
The Players Lounge on the mezzanine floor will accommodate up to 160 guests and can be used as a reception area, space for pre-dinner drinks or as a meeting room in its own right.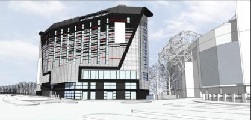 However, Hotel Football's USP is to be found at the top of the hotel. It is called 'Heaven'. It is an open space on the roof with a small Astroturf football pitch just marginally smaller than an official five-a-side pitch. The space has a retractable roof just in case it should rain in Manchester. It will accommodate up to 200 guests for a reception and will be ideal for private parties, especially barbeques. It can be used for corporate away days, team-building and for football coaching sessions. I did wonder what would happen if anyone tried to emulate a Beckham free-kick from the roof – but I didn't get an answer. I suspect you will need a super-fit ballboy to run up and down ten-storeys to do the retrieving.
Access-wise Hotel Football is a short drive to the M60 and the Greater Manchester motorway network. It will have 110 complimentary car parking spaces. It is a five-minute walk to the nearest station on Manchester's Metrolink with a regular service to MediaCityUK one way and central Manchester the other. Hotel Football is built alongside the Bridgewater Canal and there will be a stopping off point for pleasure craft on the canal.
I first viewed the site Hotel Football was about to fill twelve months ago when it was still a hole in the ground and I wouldn't have thought it was possible to build much more than a couple of semi-detached houses on the site – yet here we have a four-star ten-storey, open, bright and spacious hotel. 'It's a funny old game' - as they say.
Details:
www.hotelfootball.com