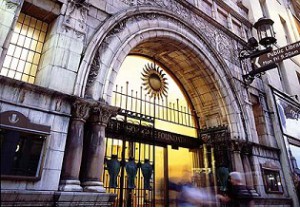 Bishopsgate Institute has just relaunched its conference and events facilities following a refurbishment programme….and what a comprehensive range of facilities they have to offer. They were all on display, together with food and drink in plentiful supply, during a recent open-day.
Bishopsgate Institute boasts a range of meeting facilities from small boardrooms to their Great Hall; rooms to accommodate from two to 500 people.
The boardrooms and small meeting rooms are available at short notice and at a flexible day/part day room hire rates.
However I think the Bishopsgate Institute has three crowning glories: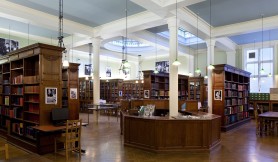 The Library: is a stunning space which has retained all its Victorian features complete with the original bookcases stacked with old books. Anybody can use it during the day for reference purposes but in the evening it can be used for a theatre style presentation for up to 50 delegates or better still for a reception or networking event.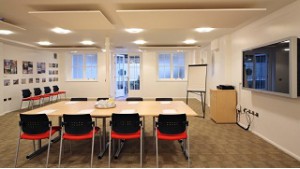 The Courtyard Room: This is a self-contained meeting and training room. It is air-conditioned with loads of natural daylight and its own private courtyard patio space. Admittedly I viewed Bishopsgate Institute on a particularly hot day in London and I was sold on the open courtyard as soon as I saw it.
The Great Hall: This is the largest room in Bishopsgate Institute. It will seat up to 270 delegates for a theatre style presentation. It's on the ground floor with easy access to the street, natural daylight, high ceilings, a permanent in-built stage, flexible lighting, excellent audio-visual capabilities, a nearby Green Room plus a Steinway Grand piano if needed – a good versatile and dramatic space.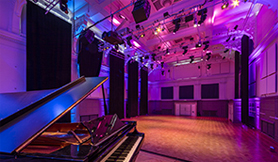 Those three rooms stuck in my mind. The other five meeting rooms and breakout rooms were equally impressive.
Bishopsgate Institute offers a full catering package. Hubbub are their long-standing events caterers.
Whilst Bishopsgate Institute has been refurbished it has nonetheless retained its unique architectural character and original decorative features. I particularly liked the internal tiling.
Bishopsgate Institute dates from 1895 when it opened as a public library, public hall and meeting rooms for people living and working in the City of London. You will find Bishopsgate Institute at 230 Bishopsgate, a two minute walk from Liverpool Street mainline and tube station plus the shortly to open station on the new Elizabeth Line/Crossrail. Incidentally, just at the back of the building you will find Spitalfields Market.
Details: http://www.bishopsgate.org.uk/