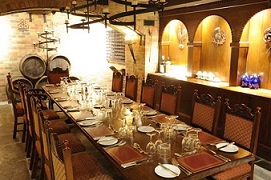 Twickenham Experience has announced the re-opening of Twickenham Cellar and launched new VIP banqueting packages for events. Twickenham Cellar is located in Twickenham's West Stand which has recently been upgraded as part of the Rugby Football Union's investment to deliver a state-of-the-art stadium ahead of the World Cup tournament in 2015.
The Twickenham Cellar is available for exclusive events for up to 14 delegates. The same fine-dining experience is also available for larger parties of up to 40 guests in the Presidents Suite.
The Twickenham Experience has 25 dedicated conference and event spaces plus 150 corporate hospitality boxes. The main auditorium will accommodate up to 400 delegates on tiered seating. Maximum number for a banquet is 800 guests. Marriott Hotel and a Virgin Active Classic Health Club are both on site. There is free parking for more than 2,000 cars.
Details: www.englandrugby.com