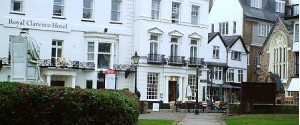 A survey using a laser to map out a 3D image could be used to help reconstruct the fire-hit Royal Clarence Hotel in Exeter.
Royal Clarence Hotel, thought to be Britain's oldest hotel, was destroyed last month after a fire ripped through the building.
However, construction consultants Excitech made a laser survey two years ago which could be used to make a model of the facade of the hotel for architects to work on.
The full size 3D scan of the Royal Clarence Hotel was taken by sheer coincidence. It was used as part of a short presentation about Cathedral Green, the hotel's location.
Hotel owners, Andrew Brownsword Hotels, have pledged to rebuild the hotel.