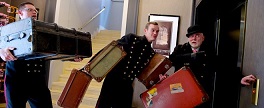 The first person you are likely to meet when you arrive at Hotel Gotham in Manchester will be 'Hartley' – an immaculately dressed doorman with a waxed moustache who welcomes all guests at the front door. He, or one of his equally immaculately dressed bell-boys, will park your car for you in the hotel's private car park and escort you up to hotel reception on the sixth floor where you will be greeted with a smile, a friendly welcome and a complimentary cocktail. If, like me, you believe a hotel has a small window in which to make a good first impression then head to Hotel Gotham for a masterclass in how it should be done.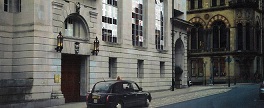 Hotel Gotham is the conversion of the Edwin Lutyens-designed former Midland Bank headquarters in Manchester's commercial quarter. The original art-deco features including the huge windows and the old bank doors have been retained and the building has now been reinvented as a 60-bedroom luxury hotel which opened at the beginning of May.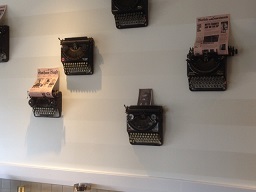 Hotel Gotham's design is inspired by the building art-deco heritage combined with references to banking and the occasional nod to Batman and friends. The bedrooms, for example, have gold ingot toiletry displays and 'swag-bags' for the laundry. The restaurant has typewriters on the wall, and the bar briefcases for light fittings. Umbrellas as lampshades feature in the entrance hall. The Gotham Bugle provides the latest news from Gotham City as well as offering directional signage around the hotel.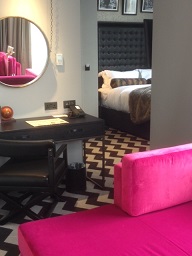 All bedrooms are air-conditioned and furnished with a flatscreen television, with freeview and satellite channels, an espresso machine and a kettle, a hair-dryer plus an iron and ironing board. Extras include a hangover kit, an intimacy kit, a mobile charger kit and a pair of old-fashioned metal binoculars.
There are four superb inner sanctum bedrooms featuring leather-clad walls and a huge projection of the city skyline on one wall to compensate for the fact that these rooms have no windows.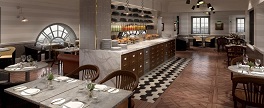 The 60-cover Honey Restaurant is on the sixth floor serving a contemporary menu. Club Brass is the hotel's VIP private club to which guests have access during their stay. This is on the seventh floor and includes a roof terrace and great views across the city skyline.
Hotel Gotham is a friendly, relaxed hotel with a keen sense of humour and witty touches. You walk around the hotel with a smile on your face but don't be fooled into thinking the lightness of touch masks a lack of professionalism. On the contrary, I think Hotel Gotham is a deeply serious undertaking dedicated to providing the highest levels of service. It is a unique hotel and a wonderful addition in a city which has no shortage of good quality hotels.

Details: www.hotelgotham.co.uk