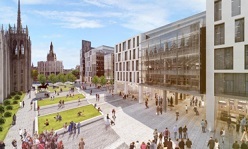 Plans for a £100million revamp of Marischal Square in Aberdeen city centre have been unveiled.
As well as the usual offices and civic space a 125 bedroom four star hotel is also pencilled-in.
A full planning application for the project will be submitted at the end of this month. If everything goes to plan the scheme should be completed in 2017.