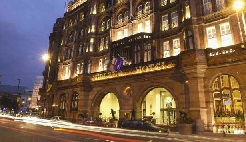 Plans have been approved a new high-profile site could be developed next to Manchester's Midland Hotel, which will include a green wall and a rooftop terrace.
London Scottish House is a five-storey office block constructed of brown brick. It opened in 1973 and sits alongside the Midland Hotel. New owners want to refurbish and extend the building.
Plans include retail units at ground and first-floor level, a south-facing green wall enabling staff to grow herbs, vegetables and fruit and a large paved roof terrace over the south-east portion of the building suitable for hosting meetings and social events.
A planning application has now been approved by Manchester City Council's planning committee.