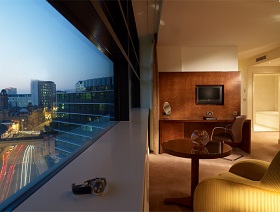 Macdonald Hotels & Resorts is undertaking a £2 million programme of refurbishment and re-launch of 16 hotel restaurants with the aim of 'de-formalising' them.
New restaurants have already opened in 10 locations. These include Rocca@Holyrood restaurant at Macdonald Holyrood Hotel in Edinburgh. Macdonald Inchyra Hotel & Spa near Stirling was the first of five hotels across the UK to introduce a new Scottish Steak Club concept.
Heading south Macdonald Manchester Hotel and Spa (pictured) has a renovated first floor Scottish Steak Club restaurant with views across the city. Macdonald Townhouse Hotel, also in central Manchester, has a new bistro menu to suit the hotel's boutique-style. Macdonald Burlington Hotel on New Street in Birmingham is also undergoing a refurbishment.
The next refurbishments will include Macdonald Bear Hotel, Macdonald Linden Hall, Golf & Country Club, Macdonald Crutherland House and Macdonald Aviemore Resort.
Details: www.macdonaldhotels.co.uk