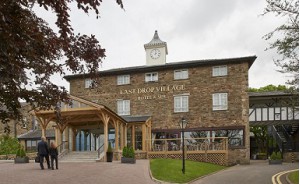 The Last Drop Village Hotel and Spa in Bolton has just completed its two-and-a-half year long, £3million refurbishment.
All 131 bedrooms and bathrooms have been refurbished.
The public spaces and outdoor bar have been upgraded. Leisure facilities have also been upgraded with new gym equipment and refreshed changing rooms.
Last Drop Village Hotel and Spa boasts among the best meeting and events facilities in the area with 11 meeting rooms and boardrooms plus extensive grounds for team building.
The meeting rooms will accommodate from 1-700 delegates. All have natural daylight and complimentary wi-fi throughout.
Last Drop Village and Spa is located on the edge of the West Pennine moors in Bolton overlooking the northern outskirts and skyscrapers of Greater Manchester to the far south. It has good access to the North West motorway links: M6, M65, M62, M60 & M61.
Details: http://www.lastdropvillage.co.uk/