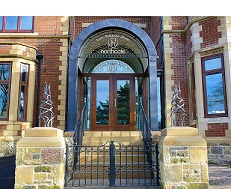 Booking agents get to view hotels on a very regular basis yet rarely get to see inside the kitchens. Perhaps hotel managers don't trust agents not to 'fill their pockets' with the vol-au-vents. It's different at Northcote, the Michelin-starred restaurant and country-house hotel in Langho, Lancashire, as I discovered when I went to view the recently refurbished and extended hotel.
Northcote have opened a new state of the art kitchen which incorporates a chef's table and a cookery school which will accommodate up to eight guests for a theatre dinner. It is separated from the main kitchen by a sliding, sound-proofed glass partition – just in case the language in the kitchen gets a little too spicy. Guests can witness the 'vibrancy, drama and skills' which combine to create a modern Michelin-starred kitchen.
The Northcote Cookery School offers a variety of half-day and day-long courses, covering basic skills and techniques through to master classes. It is ideal as a small corporate activity or as a team-building activity with a difference or as a client incentive. Northcotes will tailor-make the day to suit individual requirements.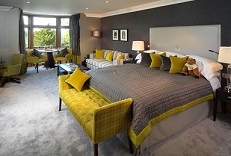 The kitchen is not the only new development at Northcote. The restaurant has been extended and revamped and it is worth going just to see the stunning chandeliers. Four new luxury individually-styled bedrooms have been added bringing the total number of guest rooms to 18. Don't forget to take your 'cotton thread counter' with you. You will need it to check the sheets and I suspect you will get a very high reading.
Northcote is a small hotel and primarily 'gourmet-driven'. However the two private dining rooms are available for boardroom-style meetings or seminars during the day. They are fully equipped with the latest AV and meetings technology with plasma screens artfully disguised as mirrors and artwork.

Northcote is located in the Ribble Valley. It is a part of the country widely regarded as one of Britain's 'best-kept secrets'. Just visiting the hotel in its own grounds and gardens on a lovely sunny morning in early summer was a treat in itself. Go take a look before the world discovers Northcote.

Details: www.northcote.com