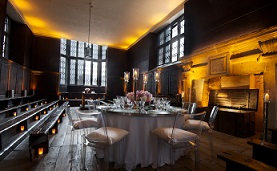 The news that Harrow School had recently hosted its first pop-up event had us checking their conference and banqueting facilities.
Harrow School has six principal rooms available for receptions, dinners, parties, performances and corporate events. Needless to say they are only available at certain times of the year. Three rooms will provide a flavour of the facilities on offer.
The largest room at Harrow School is the Shepherd Churchill Hall where the school boys eat their meals during term time. It was built in 1976 and boasts views across London from Harrow-on-the-Hill. Shepherd Churchill Hall is a versatile space which will seat up to 250 guests for a dinner on round tables.
The other rooms are smaller but more historic including the Fourth Form Room. This room oozes history. It is the site of the school when it first opened in 1615. The boys carved their names on the walls until the practise was banned in the nineteenth century. The room will seat up to 10 guests for an exclusive dinner with fixed seating - seating which has been in place for nearly 400 years.
The Speech Room is the main assembly hall for Harrow School and is where Winston Churchill made one of his famous speeches during the Second World War. It is a tiered-seat venue built on the side of a hill. The majority of the seating is fixed but it is still sufficiently flexible to accommodate up to 230 guests for a dinner.
Harrow School itself is located in Harrow-on-the Hill, north-west London. Harrow-on-the-Hill station on the Metropolitan Line is the nearest tube station with Chiltern Trains operating a regular service into London Marylebone. The school is around 20 minutes by car from M25 and M40 motorways and 30 minutes from London Heathrow Airport.

Details: www.harrowschoolenterprises.com