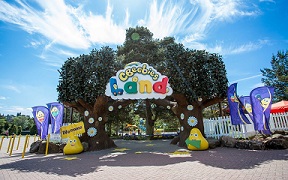 Alton Towers open their new CBeebies-themed hotel on 8th July 2017.
The 76-bedroom CBeebies hotel, all themed, will feature its own entertainment area, a restaurant plus a reception area with a storybook feature using interactive AV elements.
Theming will start on arrival at the hotel entrance where guests will be greeted by the CBeebies Land plane under a brightly coloured illuminated rainbow archway. Once inside the hotel children will be greeted by some of their favourite CBeebies characters.
Bedrooms will be able to sleep up to seven people. Each room will have a play area featuring an 'entertainment wall'.
Hotel guests can hunt for Pat's parcels in the Postman Pat room, count the jewels in the Swashbuckle room or stay in one of Mr Tumble's starry bunkbeds. Find the Ponty Pines around the In the Night Garden room and sleep in the Octopod in a themed underwater experience with the Octonauts.
All rooms include interactive games and play items. Each themed room is 'uniquely designed to give little ones a sleepover like no other'. If the above makes little or no sense you probably have neither small children nor grandchildren.
From a business and meetings point of view, Alton Towers still offers Alton Towers Hotel and Splash Landings Hotel plus a range of Woodland Lodges.
The park has its own Conference Centre with the main State Room accommodating up to 360 delegates cabaret style, supported by eight syndicate rooms, two private bars and a private patio.
There is also a wide range of team-building activities available on the 500-acre Alton Towers estate.
Details: https://www.altontowers.com/