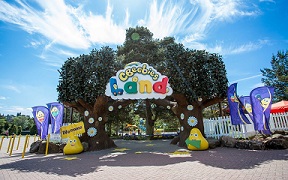 Alton Towers theme park plan to open a CBeebies-themed hotel. The 76-bedroom CBeebies hotel will feature its own entertainment area, a restaurant plus a reception area with a storybook feature using interactive AV elements. It is set to open autumn 2017.
Theming will start on arrival at the hotel entrance, where guests will be greeted by the CBeebies Land plane under a brightly coloured illuminated rainbow archway. Once inside the hotel, children will be greeted by some of their favourite CBeebies characters.
Bedrooms will be able to sleep up to seven people. Each room will have a play area featuring an 'entertainment wall'.
The hotel will also include a year-round entertainment programme, with live shows, story time sessions, character meet and greets and CBeebies games all on the agenda.
CBeebies Land Rides include: The Numtums Number-Go-Round, Nina's Science Lab, Postman Pat's Parcel Post and In The Night Garden Magical Boat Rides. If you haven't a clue what any of this means ask your children or grandchildren.
Needless to say the CBeebies-themed hotel at Alton Towers is designed especially for young families and pre-schoolers.
Details: https://www.altontowers.com/short-breaks/themed-short-breaks/cbeebies-land-short-breaks/