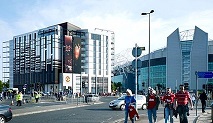 GG Hospitality, headed by former Manchester United footballers Gary Neville and Ryan Giggs, is planning to roll out its Hotel Football and Café Football concept into mainland Europe and Asia.
The first Hotel Football opened opposite the Old Trafford stadium in Manchester in 2015 (pictured). A second site is planned overseas at a yet-to-be confirmed location.
The Café Football concept kicked off at the Westfield Centre in Stratford, London in 2013. Its first overseas launch will be in Singapore in 2017.
Meanwhile on their home territory, GG Hospitality has teamed up with the National Football Museum in central Manchester to take over operation of its restaurants, hospitality and events management from 1st October 2016.
GG Hospitality will be launching a Café Football on the ground floor of the National Football Museum in late 2016.
The group will also have access to the museum's collection to display at their various sites in the UK and abroad as the group pushes a global roll out.
Gary Neville, GG Hospitality co-owner, said: "The National Football Museum is the ideal place for us to expand our hospitality portfolio. The museum is a massive draw for both football fans and tourists in Manchester and bringing the brands together feels like a natural partnership."
Away from football GG Hospitality is also developing a luxury, 200-bedroom hotel in the £200million mixed-use St Michael's development in central Manchester.
Details: http://hotelfootball.com/