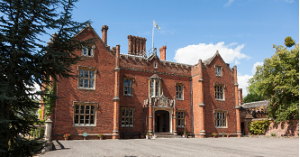 De Vere Latimer Estate with 205 bedrooms and formerly known as Latimer Place in Buckinghamshire, has just unveiled a £7million renovation.
The renovation has revealed many original features of the early 19th-century property. De Vere Latimer Estate now features a new 1838 restaurant and bar with an open kitchen. The hotel has also launched a De Vere's Burr & Co. coffee shop concept.
On the accommodation front, De Vere Latimer Estate has added 31 bedrooms. These have been created from space previously used for meetings and offices.
De Vere Latimer Estate includes 28 flexible spaces for conferences, meetings, training and teambuilding. The largest suite is the newly refurbished Cormorant Suite which will accommodate up to 240 guests.
Free, superfast wi-fi with a maximum bandwidth of 1GB is available throughout the hotel and up to 100m within the grounds.
De Vere Latimer Estate has an intriguing history. It was known as one of Britain's most secret homes and played an important part in military intelligence during World War II.
It is located around five miles from junction 18 of the M25. It is close to Heathrow and Luton Airports and the Metropolitan line into central London.