If you are looking for a meeting room to accommodate just short of 500 people with state-of-the-art equipment and superb acoustics with perhaps a small intimate room similarly equipped and with mood lighting – then take a look at the recently opened Royal Birmingham Conservatoire
Royal Birmingham Conservatoire has an excellent range of meeting and events rooms.
The main Concert Hall is simply 'jaw- dropping' from its light wood panelled walls, floor and ceiling to its raised platform stage and its raked seating. The Concert Hall also has a small balcony at the rear plus access to a green room and the main Conservatoire atrium. It is a hugely impressive space and will seat up to 493 people.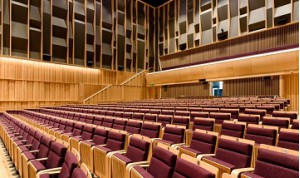 The smaller room I mentioned above is the Eastside Jazz Club. It is Birmingham's only dedicated jazz club. The room is cosy, intimate and a little louche. It will accommodate from 60 to 100 guests and I guess it would be ideal for a private drinks reception or party.
Royal Birmingham Conservatoire has eight performance studios, all spacious rooms with high ceilings and large windows each accommodating between 30 and 60 delegates depending on the layout required.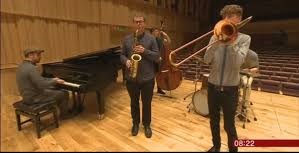 Delegates will be sharing the meeting spaces with a variety of musical instruments including grand pianos. You never lose sight of the fact that the Royal Birmingham Conservatoire is designed primarily as a centre of musical excellence.
In total the Royal Birmingham Conservatoirehas fourteen meeting, conference and events spaces. I have just highlighted the largest and the smallest.
Like most events venues the Royal Birmingham Conservatoire offers a full catering package as well as a ground floor café.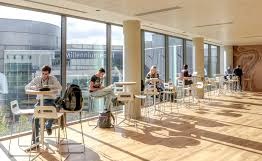 However, there are very few venues that we know of which can provide musicians and even opera singers for any function or dinner.
You can probably tell from the above that I was very impressed with the Royal Birmingham Conservatoire. Before I went I thought it would be difficult to locate the building - but no. It is a five-minute straight line walk from Birmingham Moor Street Station and ten minutes from New Street Station.
There is a multi-storey car park virtually alongside the Conservatoire (£6.00 for 24 hours) and it is an easy drive from Spaghetti Junction (M6J6) on to the Aston Expressway (A38M) and then the final couple of hundred yards around Birmingham's inner ring road.
Details: http://www.bcu.ac.uk/conservatoire