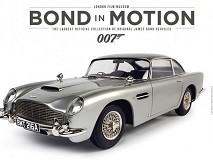 Bond in Motion' is the official exhibition at London Film Museum of James Bond vehicles that feature in the renowned film series. It is the largest display of its kind ever staged in London.
The exhibition spans half a century and six 'Bond' films. It features numerous vehicles including the archetypal Bond car, the Aston Martin DB5, Goldfinger's majestic Rolls-Royce Phantom III and the Lotus Esprit S1 submersible from The Spy Who Loved Me. Every vehicle exhibited is an original used for filming.
The upper mezzanine floor at London Film Museum features several examples of the creative process of the production company's art department - never-before-seen concept art and storyboards.
Combine a meeting with a viewing. There are six meeting and event spaces at London Film Museum ranging from the Cellar Café and the Cellar Reception each seating up to ten delegates boardroom style to the Museum Galleries accommodating up to 450 guests for a reception.
London Film Museum is located in Wellington Street in Covent Garden close to Leicester Square, Covent Garden and Charing Cross tube stations.
Details: www.londonfilmmuseum.com