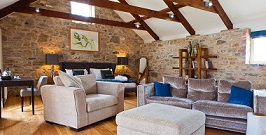 The Corran Resort and Spa in Laugharne, Carmarthenshire has unveiled further refurbishment plans following its recent renovation.
A new, permanent events pavilion is planned within the hotel's walled garden, which is expected to be completed next spring. This will be followed by 28 new luxury suites in the East House and a new equine facility. Future plans also envisage a residential recording studio, broadcasting facility and media centre.
The Corran Resort and Spa is based around an original 16th century house. It currently has 21 contemporary styled bedrooms each equipped with the latest entertainment technology. The hotel is located in the marshlands of the River Towy estuary in south west Wales.
Details: www.thecorran.com