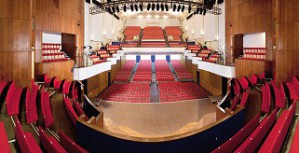 Colston Hall in Bristol has received planning permission and can now go ahead with its planned £48.8 million transformation.
The project will create one of the best arts and learning facilities in the country at Colston Hall.
Work will include remodelling and upgrading the Main Hall and The Lantern. The extensive cellar network will be opened up for the first time in 150 years creating a new intimate performance space and a state-of-the-art education suite.
The historic fabric of Colston Hall will also be refurbished.
Work on the transformation will begin in June 2018 and the new-look hall will reopen to the public in 2020. During this period, Colston Hall will continue a live performance programme using the foyer building, which will remain open throughout the transformation.
Colston Hall's main auditorium will currently seat up to 1800 delegates for a conference or meeting. The Lantern on the other hand is a high-ceilinged room which will seat up to 250 delegates for a conference, product launch or exhibition.
Colston Hall is located in Colston Street in the centre of Bristol around one mile from Bristol Temple Meads station.
Details: https://www.colstonhall.org/