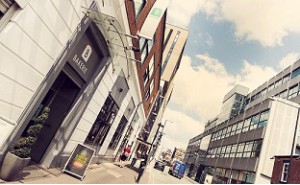 I have just been to a business event held at the Bakerie in central Manchester. It was a venue I was not previously aware of.
Bakerie is basically a bread and wine bar which serves freshly made bread and a range of home-baked classic meals.
As meeting venues go it is only small. The Bakerie consists of a ground floor restaurant and bar.
It is their space on the lower ground floor, the Cellar Bar, which is available for hire for a private dinner, presentation…or for a bread baking team building experience. As the name suggests, the Bakerie's specialist subject is bread.
The Cellar Bar is set up with a long dining table, its own bar, a theatre style presentation area which will seat around 35/40 delegates with a full screen and AV.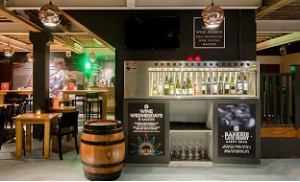 The room also features a 'wine jukebox' – new to me as well. You select your chosen wine from around 24 bottles all on display, press the select button and a small, medium or large glass of your chosen wine in duly dispensed. Wonderful – I could have played the jukebox for hours.
The bread making classes at Bakerie last from an hour and a half to two hours. Delegates have all the ingredients and instructions they require to produce the prefect Focaccia loaf.
Delegates start with an introduction to the basic ingredients together with some facts and figures regarding producing bread. They will be shown how to produce a basic white bread dough using just flour, water, yeast and salt. They will then turn this into a Focaccia using supplied ingredients.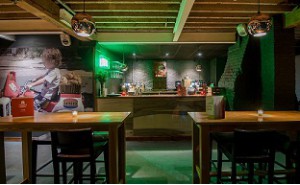 Bread making will suit groups from ten to forty delegates as a team building exercise. Groups can be split for competition purposes if required.
The home baked Focaccia at the Bakerie is delicious and worth a trip in itself just to sample it.
The Bakerie is a good, self-contained and 'different' venue with very friendly, obliging and knowledgeable staff. It is an excellent venue for a relaxed yet professional presentation – even without the bread-making element.
You will find Bakerie in Lever Street in Manchester's Northern Quarter – a short walk from both Manchester Piccadilly and Manchester Victoria stations.
Details: http://bakeriemcr.com/