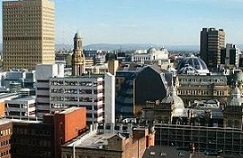 That London is the busiest city in Europe for hotel development will come as no surprise to any traveller. With 17,919 bedrooms under contract in the capital, it is well ahead of Istanbul in second place with 7,487 bedrooms in its pipeline.
The surprise is Manchester. With 4,362 hotel rooms under contract in the city it is a long way ahead of several leading European capitals including Moscow (3,563 rooms); Amsterdam (3,507 rooms); Berlin (2,540 rooms) and Munich (2,433 rooms).
Projects under contract include those in construction, final planning and planning stages. The statistics have been published in the November 2014 STR Global Construction Pipeline Report.