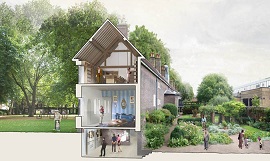 The Geffrye Museum in Hoxton, east London is a museum of the home. It is housed in a row of Grade 1-listed, 18th century alms-houses and the museum records and traces the changes in 'living space' since around the year 1600. It is a totally absorbing place to spend a morning seeing how our ancestors lived before the days of modern household conveniences. The museum chronicles the furnishings and how the rooms were heated, lit and lived in - and how they changed over time responding to changes in domestic life. The herb gardens behind the museum are just as fascinating – an urban oasis in the heart of Hoxton.
This year marks 100 years since the Geffrye Museum first opened and 300 years since the alms-houses first opened. To mark these twin anniversaries the Geffrye Museum has unveiled plans to increase space at the museum by around 40%. The new-look museum will include new galleries, a new café and conference facilities, as well as rejuvenating the current public spaces.
Hoxton Overground station is at the rear of the Geffrye Museum – a two minute walk at the most. However, I walked from Old Street tube station to the Geffrye Museum. It is a journey which takes you from Silicon Roundabout at the vibrant and frenetic heart of the modern, creative London with its cluster of tech firms, way back to Victorian times and beyond - in less than ten minutes. It struck me that the Geffrye Museum could be an excellent venue for a meeting or brain storming session – the perfect catalyst for sparking the creative juices.
Take a look at the Geffrye Museum if you have time to spare in London – entry is free (but donations are welcome).

Details: www.geffrye-museum.org.uk