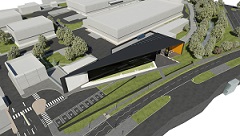 The Royal Mint's new Visitor Centre in South Wales will open on 18th May 2016.
The Royal Mail Visitor Centre allows 'behind the scenes' access to the world's leading export mint and follows the journey of a coin, from 'blank to a bank'.
The guided Factory Experience will enable visitors to gain first-hand knowledge of the manufacturing process as well as providing an insight into the 1,000 year heritage of the Royal Mint.
The Royal Mint offers companies the opportunity to create a unique, bespoke product to mark an anniversary, celebrate a special event or recognise or reward achievement. Visitors will also be able to strike their very own coin as a memento of the visit.
The Royal Mint is located in Llantrisant in Mid-Glamorgan, close to junction 34 of the M4 motorway.
Details: http://www.royalmint.com/