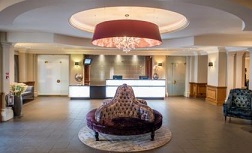 Earlier this summer the Mercure Exeter Southgate hotel completed a £2 million refurbishment project, transforming the interior of the central Exeter hotel. The refurbishment has included all 156 bedrooms plus the reception, the Gate House restaurant, bar, lounge and terrace.
The redesign of the hotel has been inspired by the famous Exeter Book, an Anglo-Saxon collection of old English poetry written around 970AD and now housed in Exeter Cathedral, the hotel's near neighbour. Items such as a Domesday map, for example, have been re-created in the hotel lobby area.
Bedrooms in the Mercure Exeter Southgate include classic rooms, privilege rooms, suites and interconnecting rooms. All have wi-fi access, a flat-screen television and a four-star standard bathroom.
The Gate House Restaurant serves contemporary British cuisine and is open for lunch and dinner seven days a week.
Nine flexible meeting rooms include the latest multimedia presentation and communications facilities. The largest room, the Seymour Suite, will accommodate up to 150 delegates theatre style.
Leisure facilities include a gym, sauna and a 15m indoor swimming pool.
Mercure Exeter Southgate is located in the heart of Exeter just over a mile from Exeter St Davids Station.
Details: www.mercure.com