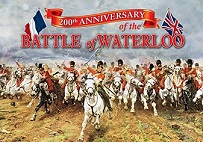 Amid the hullabaloo surrounding the 200th anniversary of the Battle of Waterloo, we came across the following advertisement which appeared in a newspaper in June 1815.
Family Hotel and Boarding-House: on the Beacon, Exmouth, commanding views not surpassed in the kingdom for picturesque scenery embracing a noble expanse of ocean, the River Exe with its celebrated beautiful banks studded with gentlemen's seats, the city of Exeter and surrounding rich and cultivated country.
R MARE respectfully acquaints ladies and gentlemen frequenting the Devonshire coast that he has fitted up and ready to open on a liberal extensive scale, an establishment of the above description which has long been a desideratum at that place he trusts by unremitting assiduity to merit public support and patronage.
It makes you wonder what people 200 years from now in 2215 will make of modern hotels promoting their 'flat-screen televisions with satellite channels and free wi-fi'?