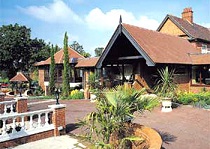 The danger of viewing hotels is that once you have seen them that picture remains in your mind forever - no matter how much the hotel may change in the interim. Such thoughts went through my head after seeing Barton Grange Hotel in Preston. It was logged in my mind as an ordinary, inoffensive three star hotel - a bit 'peas and carrots' as my colleague classifies all boring hotels. It did the job. But it has certainly changed since I last saw it.

Barton Grange Garden Centre which was alongside the hotel for many years has now moved to an independent site a mile up the A6 and the space it occupied has been turned into a lawned courtyard-style garden with a smattering of trees and borders. It looks absolutely great, especially from the hotel's Walled Garden Restaurant which overlooks it.

The old entrance and reception to the hotel has also changed. The reception is now a lot brighter, more open and very welcoming. It's always best to get off to a good start in a hotel.

Barton Grange has 51 bedroom including six executive suites. All are modern, fresh and stylishly decorated – and very well equipped. Every room includes a flat-screen television with Sky Channels, free hi-speed wi-fi and Bluetooth speakers. Superior and executive rooms also include a Nespresso coffee machine. Leisure facilities include an indoor heated swimming pool, sauna and mini-gym.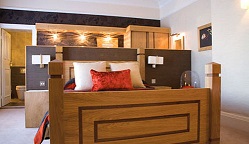 Barton Grange Hotel has a main conference suite – the Barton Room – on the ground floor with a balcony reception. The Barton Room will seat up to 300 delegates for a theatre style meeting and will split into three roughly equal-sized divisions. Natural daylight floods the room. In addition there are two smaller meeting rooms and three syndicates, all close to the Barton Room. The rooms are air-conditioned throughout and equipped with the latest technology including ceiling mounted screens, LCD projectors, a sound system and not forgetting the free wi-fi.

But I think it is the Walled Garden Bistro Bar and Grill which is Barton Grange's USP. The meat, dairy and vegetables are all sourced locally - and my colleague is always telling me that Lancashire produces the best and greatest variety of cheeses in the world. Added to which it Is a lovely room in which to eat – which says it all.

Barton Grange has a good location - around two miles off the M6 junction 32/M55 junction 1, and slightly further to the centre of Preston. Turn right on to the A6 out of the free-of-charge car park and you will be in the Lake District before you know it.

I now need to refile Barton Grange Hotel in my memory bank under the four- star hotel section: good, stylish hotel with a switched-on and hands-on GM.
Details: www.bartongrangehotel.co.uk